Drainage Solutions
French Drains * Trench Drains * Channel Drains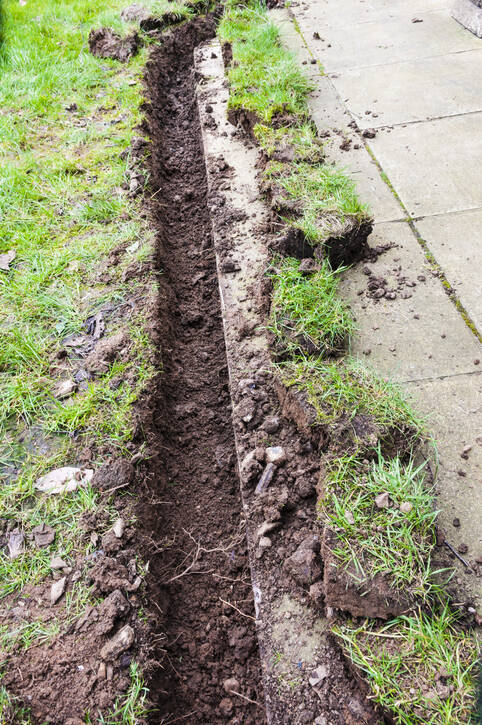 Are you concerned about rainwater pooling around the foundation of your home? Consider installing a French drain, trench drain or channel drain on your property. Drains serve the important purpose of diverting water runoff from collecting near homes and other structures. Clean Slate Landscape & Property Management, LLC's landscaping professionals specialize in installing drains on area properties. We have helped countless homeowners to keep their buildings safe from water damage for more than 23 years.
---
Free Estimates
---
Do I Need to Install a French Drain?
Are you having a problem with surface water collecting in your yard? If you are having lawn or mulch wash out or if you are building a retaining wall on a hill near your home, you might consider installing a French drain, which will provide an easy channel for rainwater to flow through in the direction of your choosing. Adding a French drain will protect your home from unwanted pooling water and keep your lawn from washing away.
Clean Slate Landscape & Property Management, LLC's Process for French Drain Installation
When you call (508) 669-7959 to install your drain, you'll be working with true industry professionals. We'll schedule a convenient time to meet and determine the unique needs of your property. Should you wish to move forward after receiving a written estimate from your Clean Slate Landscape & Property Management, LLC contractor, we'll take the following steps to install a French drain on your property:
First, a trench will be excavated in the ideal location to relocate water
Ideally, the trench will be dug horizontally to the water source, whether a hill or higher ground
Within the trench, a tubular draining system will be placed, which is water permeable.
Stones are placed inside the tube for water to flow through
Once placed, the drains are covered and not visible above ground
For more information or a free consultation, call (508) 669-7959
Trench Drains and Channel Drains
While French drains deal with water issues that are below the surface, trench drains divert water away from a surface. Trench drains, also known as channel drains, are lined with concrete and are sloped away from buildings to divert water. Trench drains are often used to manage rain water, especially where there are few opportunities for absorption into the ground, such as around pool decks, parking lots, driveways and walkways. There are many applications for trench drains for commercial properties in the area, and they even work well in multi-level structures.
Factors That Determine the Type of Channel Drain to Manage Your Drainage Issue
How do you decide what type of drain is needed on your property? There are quite a few calculations that go into determining the size and slope of the drain that will work best. The drainage pros at Clean Slate Landscape & Property Management, LLC have 23 years of experience with helping customers choose a drain. First, we'll have to determine how much water will need to be drained from your property. Channel drains are great for keeping water from flowing into your garage, basement, or parking lot. We will measure the amount of runoff and the slope of the surface. From there, Clean Slate Landscape & Property Management, LLC will determine the best trench or channel drain to install to manage your runoff water and keep your property dry. We'll choose a grate that can handle the flow capacity for your project to be sure that the proper channel drain will be installed to manage your runoff.
Why Call Clean Slate Landscape & Property Management, LLC for Drainage Solutions
There are many local landscaping companies, and several can install French or channel drains. Why choose Clean Slate Landscape & Property Management, LLC? The choice is simple. We've been in the drain installation industry for over 23 years and have a staff that is extremely knowledgeable and fully trained in best practices for drain installation. All crew members are hand-selected and supervised by our landscaping leaders. With our extensive knowledge, fair pricing and experience, you'll be in good hands when you call Clean Slate Landscape & Property Management, LLC.
---
Call for Fast FREE Quote
---