Commercial Snow Removal in Concord, MA 01742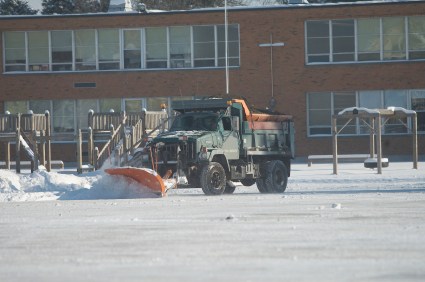 Businesses in Concord Massachusetts seek out commercial snow removal on a frequent basis. If this is something which your company often needs, look no further than Clean Slate Landscape & Property Management, LLC. In the commercial snow removal business since 2000, Clean Slate Landscape & Property Management, LLC is a professional company where the staff knows exactly what needs to be done and we can get the job done quickly. Some of our services include snow plowing driveways, clearing roadways, shoveling sidewalks, removing snow from walkways and salting/removing ice from the affected area.
If you want speedy Concord commercial snow removal services performed, we at Clean Slate Landscape & Property Management, LLC can help. Our staff offers quick and efficient commercial snow removal so that your business can get back to its daily duties. Whether you need a single driveway plowed or an entire business development cleared of snow, Clean Slate Landscape & Property Management, LLC can do it for you.
As a business entity, you don't want to entrust your commercial snow removal job to just any company. You want a true professional in the field and this is exactly what we provide. Clean Slate Landscape & Property Management, LLC will provide professional snow removal services in Concord MA each and every time.
Our company also offers a cost effective solution for your commercial snow removal needs. Concord MA businesses are often trying to cut costs and this means finding a reasonably priced Concord commercial snow removal provider. You will appreciate our prices and the quality service which goes along with it.
Commercial snow removal in Concord MA can be yours when you choose Clean Slate Landscape & Property Management, LLC to do the job for you. Call us today at (508) 669-7959 and let us highlight our commercial snow removal services for you so that you may choose the one best suited for your needs.
WHAT CUSTOMERS ARE SAYING:
5★★★★★ - "Cleiton annually services our lawn and the work he does is always expertly done. He is also just a pleasure to work with - pleasant, kind, with a great attention to detail. We highly recommend him!"
Frank
---
5★★★★★ - "My tenants and I have been happy with Patrocinio Landscaping team's responsiveness and thorough snow and ice removal from my commercial property. Cleiton Patrocinio has exhibited professionalism and provided fair pricing. I would recommend his services. Keep up the good work."
Dan Lee
2013-03-11
---
5★★★★★ - "Cleiton Patrocinio has been my Landscaping Contractor for seven years. His company handles all of my landscaping needs for several commercial properties. He consistently provides quality service at reasonable prices. I have referred Cleiton to several other people over the past few years and they have all been pleased with the referral."
Paul McKeon, Director of Finance and Property ManagementR.W. Holmes Realty Co., Inc. in Wayland, MA
2013-03-11
---
5★★★★★ - "I have used Patrocinio's Landscaping for all of my landscaping, irrigation, and plowing needs. Cleiton and his crew are very efficient paying close attention to detail. If I have a question, my calls and returned promptly. I am very pleased witht he service I have received from Cleiton."
Bernadette Tesini
2013-03-11
---
5★★★★★ - "I have known Cleighton Patrocinio and Patrocinio Landscape for over 7 years. He and his team have always provided professional quality work delivered on schedule. He has completed retaining walls, curb replacements, sidewalks and landscaping. I always refer him to my clients for landscape maintenance and winter services."
Patrick Schmidt
2013-03-11
---
Call for FREE Commercial Snow Removal Quote
---
Commercial Snow Removal available in the following Concord, MA zip codes: